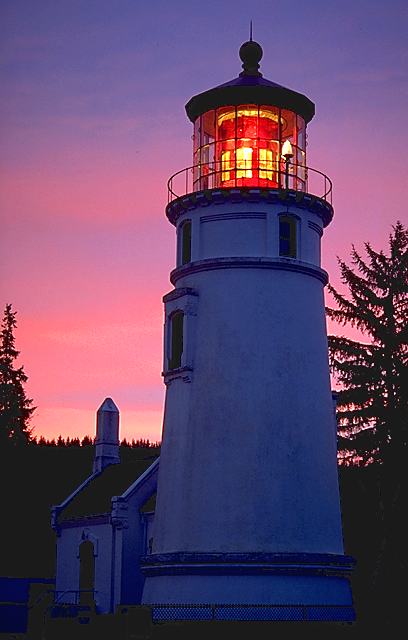 Winchester Bay, Oregon
---
The Umpqua River Light dates from 1894. It features a gorgeous and unusual revolving, octagonal, red-and-white First Order lens. The light shines 24 hours a day, but visit Umpqua after dark or before sunrise, if you possibly can. As you enter Umpqua Lighthouse State Park, down a winding road, the light's rainbow beacon rotates through the tall pines with an alternating red and white beam. The 65 foot tower is brick covered with white stucco, but you will not be able to take you eyes off this fantastic lens.

In November of 1983 the old chariot wheel mechanism that rotates the light broke down. The Coast Guard promptly installed an airpost beacon on the tower and made plans to remove the original lens. Local residents launched a storm of protest until the Coast Guard relented and repaired the rotating apparatus.

The present light is the second on this site. The first, built closer to the river in 1857, was washed away by floods six years later.
---