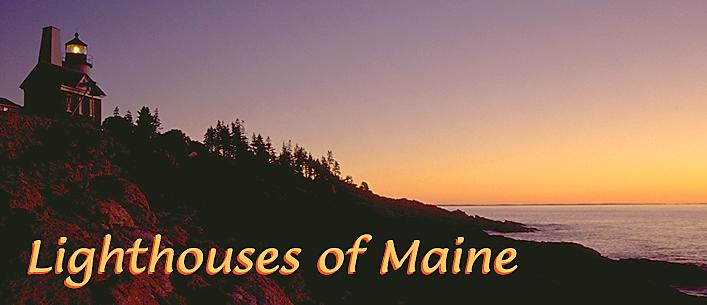 If you like lighthouses, Maine is Mecca. There are more than 60 lights along Maine's craggy Down East peninsulas. We'll visit some of the more prominent of them by taking a trip along Rt. 1.
Just over the New Hampshire border offshore from the town of Kittery, at Fort Foster Park, sits Whaleback Light. A few miles north are the charming towns of York and York Beach--home of one of the most-photographed lights in Maine, Cape Neddick Light From Cape Neddick you can also catch a distant glimpse of Boon Island Light, one of Maine's most inhospitable. Heading north along the coast, just past Kennebunkport, the small light at Goat Island sits just off the entance to Cape Porpoise Harbor.
South of Portland, the historic lights of Casco Bay and Cape Elizabeth include Maine's oldest light, Portland Head Light, Maine's most powerful beacon at Cape Elizabeth Light, and the two small lights in Portland Harbor, Portland Breakwater Light and Spring Point Light. Offshore from Portland Head is the light on Ram Island Ledge.
We'll skirt around Portland, past L.L. Bean's at Freeport, and stop to tour the Kennebec River lights below Bath. Six miles offshore from the mouth of the Kennebec, the foggy Seguin Island Light is Maine's only first-order light. Just north of Bath, on the next finger of the coast, the Boothbay Harbor region also features several nice lighthouses.
Turning south at Damariscotta, we again find the ocean at the rocky and photogenic Pemaquid Point Light. Don't miss this one ... it's a beauty!
Two very special lights are on the next Down East finger of land, extending south of Thomaston to the villages of Tenents Harbor and Port Clyde and the Marshall Point Light, and via ferry to the Monhegan Island Light.
Back on Rt. 1, just before the turn north to circumnavigate Penobscot Bay, on the peninsula just below Rockland, the elusive Owl's Head Lightstation has witnessed many shipwrecks. The small city of Rockland has it's own Rockland Breakwater Light as well as a wonderful lighthouse museum. Just north of Rockland is the quintessential Maine harbor town of Camden, with Curtis Island Light guarding the entrance to the harbor.
We're now passing Ellsworth, approaching Mt. Desert Island and Acadia National Park. On the western side of the park, past the port of Southwest Harbor, Bass Harbor Light shines its unique red light on the traffic entering Blue Hill Bay.
Finally, way up past Machias, at the very edge of the Eastern Time Zone, sits the red and white striped West Quoddy Head Light.
---

Lighthouse Home Page