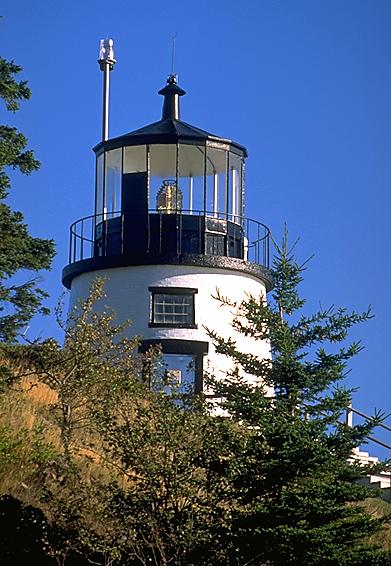 ---
Owl's Head Light
Owl's Head, Maine
This little 30 foot stub of a light tower sits high on a cliff guarding the entrance to Rockland Harbor. The name Owl's Head comes from the two large indentations in the headlands that suggest an owl's eyes. A light was first built here in 1826 to service the increased shipping generated by Rockland's lime industry. The present brick tower was constructed in 1852 and fitted with a fourth-order fresnel lens. The tower remains essentially the same as when it was built.

There's a long series of wooden steps leading up to the light from the keeper's house, which is now a Coast Guard residence. Owl's Head Light is now a state park--beautifully picturesque and ideal for a picnic.

Owl's Head is the subject of much "lore," including the story of the "frozen lovers" ... two poor souls whose ship wrecked on the point during the blizzard of 1850.

A fine art print of this lighthouse is available for purchase.
---